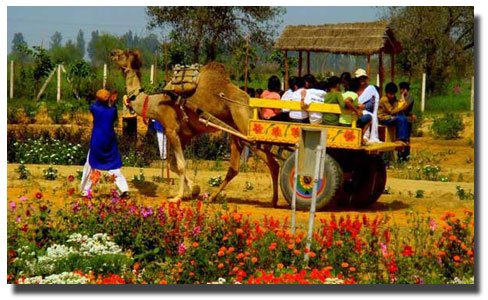 Facilities At A Glance :

At Pratapgarh Farms & Resort There's No Room For Boredom. Take Your Pick From A Wide Range Of Fun And Adventure Facilities And Make Every Moment Memorable.

Adventure
Burma Bridge, Valley Crossing, Camel And Bullock Cart Riding, Tractor Rides, Night Walks.

Fun
Mud & Tube Well Bath, Singing & Dancing, Shooting Gulel, Air Gun, Darts, Archery, Village Games Like Kanchee Golee, Gulee Danda, Pithoo, Stappoo, Field Volley Ball & Badminton, Kite Flying.

Sara Din (available throughout the day) : Neembu Shikanjee, Chacch, Tea and Pakoras, garam Rabari, Kadhai doodh, Jalebi, Makee Bajre ki roti with desi Ghee, Gur, and Lahsoon ki Chatni. Bajre Ki Khichri with Ghee Bura, Ganne (sugarcane) straight from the field. Kindly note that Winter cuisine – like makee bajre ki roti will be replaced by other snack during warm weather.

Mazedar Nashta - Breakfast (09.00-12.00 am) : A choice of stuffed paranthas with white farm fresh Makhan, Dahi, Achaar and Chatni and Poori Bhaji.

Dopahar Ka Shahi Khanna - Lunch (1.30 – 3.30 PM) : Missi/Tawa Roti/ Tandoori Roti, Vegetable Poolao / Jeera Rice, Dal Makhni / Rajma / Cholle (one), Sarson Ka Saag or Seasonal Vegetable, Paneer Shahi, Kadhi, Dahi or Raita, Makhan, Chatni, Achar, Gaajar Ka Halwa, Moong Ka Halwa / Rawa Halwa/ Kheer (one), Papad, Chatni, Achar and Jaggery, Green Salad.

Note: We serve and cook in RO water. Bottled water and Cold drinks are not included in the package but can be purchased over the counter.

We do not permit consumption of alcoholic drinks.


Entertainment, Fun, Sports and Activities
Entertainment – Been and Dholki Dance.

Rides : Camel ride, Camel cart ride, Bullock cart ride, Tractor ride, Horse ride

Ethnic Games : Gilli Danda, Pithoo, Lattoo, Kanche goli, Archery, Gulel (sling shot), Dart shooting, Air gun shooting, Kushti, Kabbadi, Kite flying, Tug of war.

Sports : Cricket, Soccer, Volleyball and Badminton, Croquet, Trampoline jumping

Indoor Games : Table Tennis, Carrom, Chess, Ludo and Snakes and ladders.

Natural beauty care and Relaxation activities : Mehndi (henna application), mud and gulabari packs, batna ( chick pea, butter and rose extract scrub), head massage , mud bath and tubewell bath.

Organized Games : Sack race, spoon race, lemon race, musical chairs, Tambola (for tambola, we provide equipment and space and your group can play by your self).

Rural Domestic activities: Rural Kitchen : participate with rural women and menfolk in their colorful attires – cooking on hearth, pounding grain, grinding grains, making ghee and butter millk, Panihari Chaal (balancing water pails).

Rural Creative Activities : Pottery, mud lep (applying mud paste to houses) and painting frescoes on mud walls, matka painting. Agriculture and Dairy

Activities : Tending goats, cows, buffaloes and goats, ploughing, sowing, reaping, winnowing.

Visit to Farm : Dairy farm, Poultry farm, Biogas plant, Vermi-composting plant, Herb Garden, Nakshatra Vatika, Navgriha Vatika, Triphla Kunj, Panchvati, Bodh Vatika.

To confirm, please send us your final choice from above, with your complete address for billing. We shall then e-mail you the Performa Invoice.

More info...